Bravo! Italian Kitchen is the best restaurant to bring colleagues and clients together over delicious food and drinks. From intimate business dinners to large company events, Bravo! Italian offers a warm and inviting ambiance that is perfect for all corporate events.
Regardless if you're planning a large group event or small group of 20 or more, Bravo! Italian Restaurant offers attentive event planning, semi-private and private event rooms, and a variety of group friendly event menus featuring our contemporary Italian food to fit your budget. Choose from an array of appetizers, fresh salads, premium quality steaks, seafood, made-to-order pasta, and flatbreads made with the highest quality and freshest ingredients. Our sophisticated yet relaxed atmosphere and world-class service will provide a dining experience like no other!
Planning your group event at Bravo! Italian Kitchen is simple. Contact our expert event planners at your local Bravo! or click BOOK NOW to easily get started.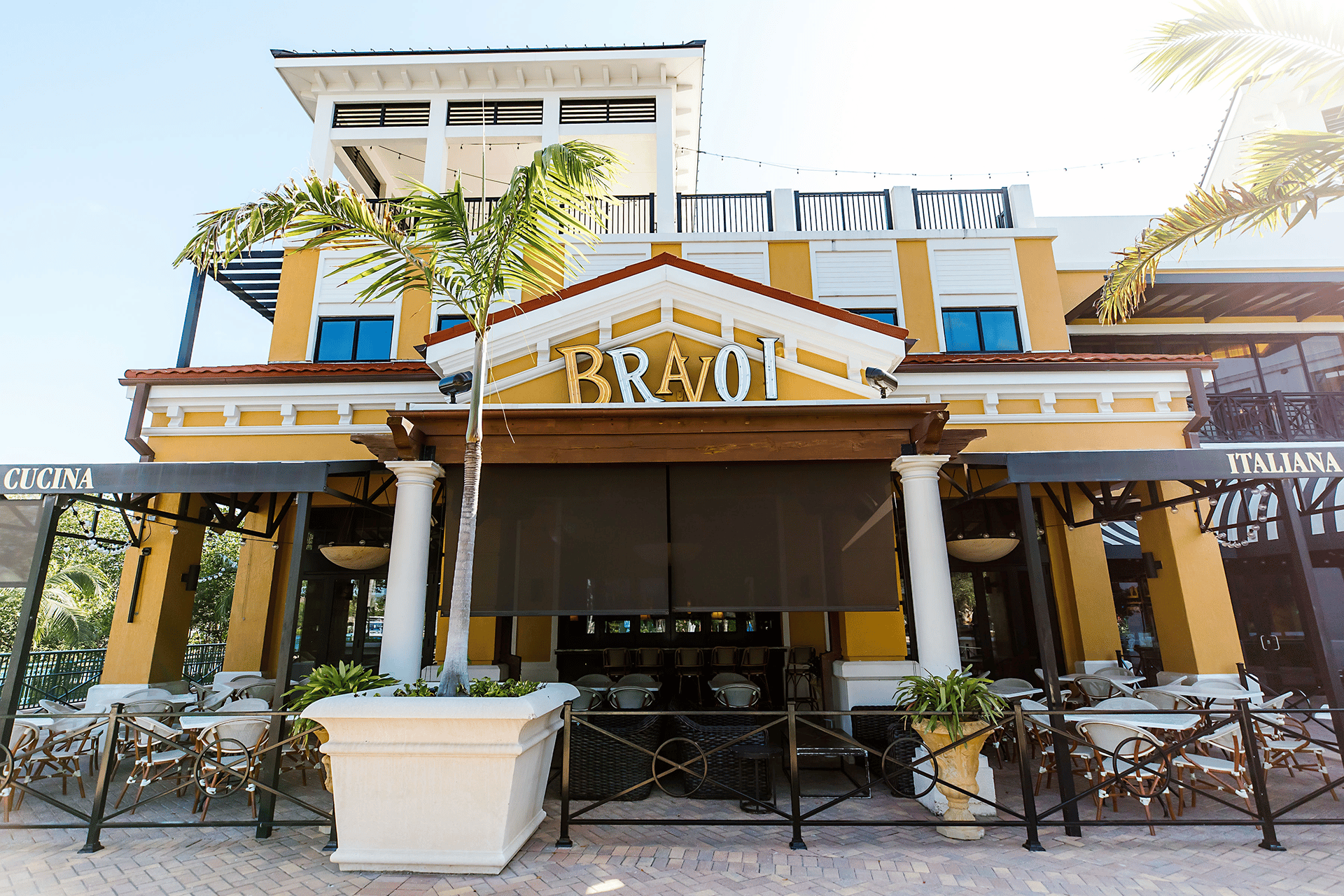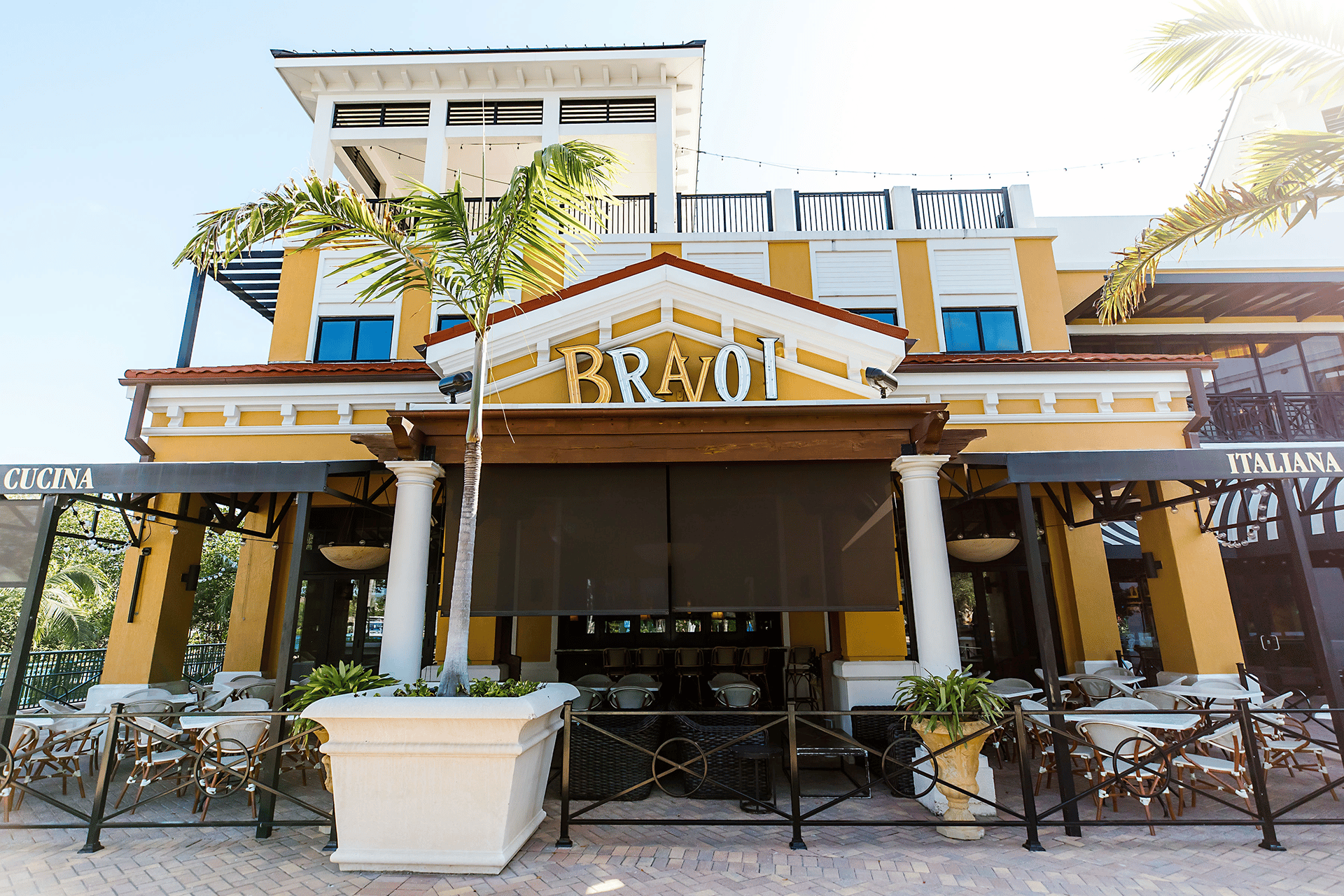 Easy Event Planning
At Bravo! Italian Kitchen we make it easy to plan company dinners, office luncheons, team meetings, networking events, an employee and client appreciation event, or a holiday party to celebrate a fantastic year! Bravo! is the best Italian restaurant and event venue for special events and groups of all sizes.
Let us do all the work for your large group or office gathering, our expert event planners take the hassle out of organizing company meetings and office parties. From menu selection to seating arrangements and special requests, we'll take care of every detail so you can enjoy a stress-free event. Whether you're hosting corporate events at a Bravo! Italian restaurant near you or ordering catering at your office or event venue of choice, we promise a hassle-free experience.
Bravo's complimentary event planning services are available for all types of corporate events for groups of 20 guests or more. Simply call your local Bravo! or click BOOK YOUR EVENT.
Group Dining & Banquet Menus
Everyone loves great Italian food at Bravo! Our group dining menus showcase fresh ingredients and authentic modern Italian cuisine. Bravo! Italian Kitchen offers a variety of group-friendly banquet menus for lunch, brunch, dinner, and cocktail receptions. Your guests will be dazzled by our contemporary Italian food. Customized group menus are sure to please every palate and guest with vegetarian and gluten-free dietary preferences.
A variety of plated and family-style group menus feature our most popular Italian dishes made from scratch. Choose from made-to-order pasta and crisp salads for a casual lunch or dinner. We offer a variety of appetizers, fresh salads, pasta dishes such as our famous Pasta Woozie, Lasagna, and Shrimp Fra Diavolo; and Italian specialties including Chicken Parmesan and Chicken Marsala. Start your elegant event with Lobster Bisque or Italian Wedding Soup and select from our entrées including Filet Mignon, New York Strip, Grilled Salmon, and Chicken Scaloppine. End with a dessert tray for the table or our decadent Tiramisu and Cheesecake. Unlimited soft drinks, coffee, and tea are included with every group dining menu. Raise a glass with beer, wine, and premium beverage packages. Available where allowed by law, with an option for an open bar, hosted bar, drink tickets, or cash bar.
If you prefer a customized menu or have any special requests, simply let your dedicated event planner know your menu preferences in advance, and they will be happy to provide menu options to suit your budget and the needs of your group.
Upscale Event Venues
If you're looking for the best restaurant and event venue for corporate events, Bravo! Italian Kitchen is the perfect venue for groups of all sizes. Our contemporary Italian restaurants provide a sophisticated and inviting setting, flexible seating, and private and semi-private rooms suitable for every occasion.
Whether you wish to host a casual happy hour as a team-building event, a corporate meeting, a retirement party, or an after-work networking event, our attentive staff will make sure every detail is taken care of so you can enjoy your event.
Our restaurants are designed to easily allow guests to mingle and chat. If you're hosting formal corporate events, our event planners will work with you to make any necessary setup enhancements. Want your guests to say "Bravo!" at your next special event? Let's get planning. Find a local Bravo! Italian Kitchen near you.
Corporate Event Catering
When hosting office lunches, team meetings, or corporate events at the office, Bravo! Italian Kitchen offers a variety of Italian Catering menu packages to suit every budget. It's easy to have everyone's favorite Italian food delivered or ready for curbside pickup at the Bravo! Italian Kitchen near you.
Choose from Italian restaurant favorites served by half pan and full pan for groups of 10 or more. Individual meals, perfect for office Lunch & Learns, training meetings, and employee appreciation meals, are available when your attendees will be eating at staggered times. All catering orders include our freshly-baked bread. Disposable silverware packets, plates, napkins, butter chips, and serving utensils are available upon request.
Corporate Events Are Better At Bravo!
Whether you're planning a large corporate event or a smaller group meeting of 20 or more, Bravo! Italian Kitchen has the perfect space and sophisticated atmosphere to accommodate your group. Choose from a selection of family-style or individually plated meal options to make your group dining experience truly memorable. Have a question or wish to customize your group dining menu? Our expert corporate event planners are available to guide you through every step of the planning process. Call us at your local Bravo! to discuss your corporate event and find out more about our complimentary event planning services for groups of 20 or more. Our group event planners will share a wide range of flexible menu options to fit within your budget.
Booking your corporate events is easy! Click BOOK YOUR EVENT to get started. Planning a small group of fewer than 20 guests? Click RESERVATIONS to dine in or ORDER TO GO for delivery or pickup. Need us to bring the party to you? Let Bravo! Italian Kitchen cater your office group lunch or special celebration with authentic Italian CATERING packages or individual lunches available for delivery or pickup.