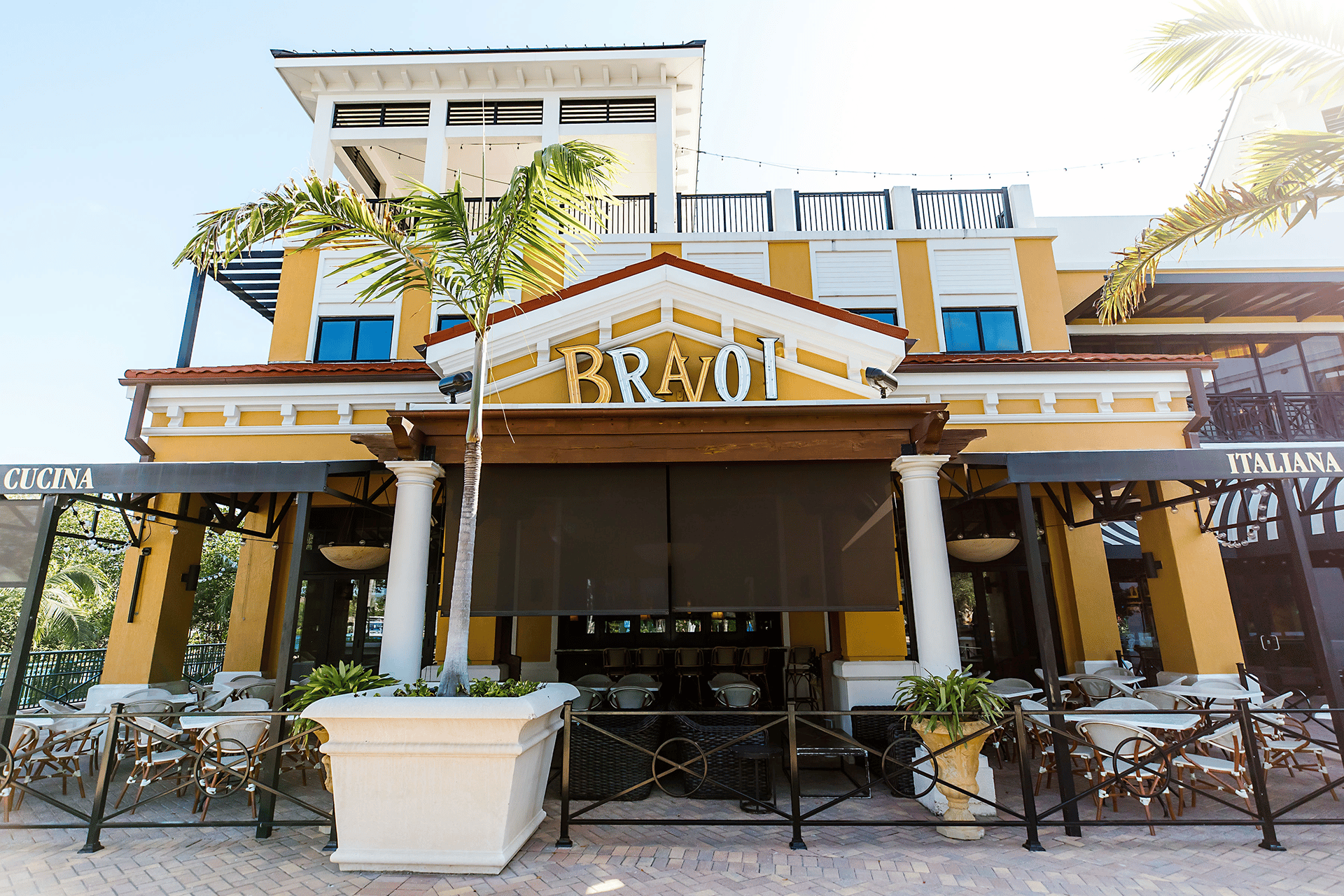 About Bravo!
Learn all about Bravo! Italian Kitchen
The Bravo! Story
The first Bravo! Italian Kitchen location opened in 1992 in Columbus, Ohio. Since then, Bravo! has grown as a beloved Italian restaurant brand with multiple locations across the United States. Serving a diverse menu featuring a fresh take on classic Italian food using the freshest ingredients. We use made-from-scratch recipes inspired by regional Italian cuisine. Choose from premium steaks, pasta specialties, fresh seafood and crispy flatbreads prepared in an authentic Italian brick-oven. Whether it's a casual office lunch or a family night out, a celebratory birthday dinner, or special occasion, we pride ourselves in providing the perfect upscale yet casually comfortable setting for a memorable meal. Join us after work for weekday Happy Hours, Martini Wednesday, Wine Thursday, and our popular Sunday Brunch. The combination of great food, great atmosphere and great service has made Bravo! Italian a unique experience for all ages, and groups of all sizes to enjoy.
the Bravo! Experience
Step into your neighborhood Bravo! Italian Kitchen and experience our fresh take on classic Italian food prepared using the freshest ingredients. From made-to-order pasta and brick oven pizzas, to crisp salads, and perfectly chargrilled steak, chicken and seafood. It's a modern Italian restaurant experience that will have the entire family saying "Bravo!"
Begin your lunch or dinner by sharing some of Bravo's most popular starters. Everyone loves passing Calamari with fresh Arrabbiata Sauce, Crispy 'Mozz' Ravioli, and our Flatbread creations around the table. For your main course, there's something for every dietary preference including gluten-free and vegetarian. Fans of Parms have the option of Veal, Eggplant or Chicken Parmesan. Light-fare like Grilled Salmon Fresca or hearty thick glazed Pork Chops.
Our wine list offers selections from around the world perfectly selected to compliment our entrée options. Finish off your Italian feast with a sweet treat from our dessert menu, a specialty coffee or an after‑dinner drink. Tiramisu or decadent Caramel Mascarpone Cheesecake? Choose both!
Elevate your event with Bravo! Italian Catering
Bravo! Italian Catering makes feeding a crowd easy! We offer a variety of Celebration Catering Packages, guaranteed to meet and exceed your event catering needs. If you need help planning your event, our expert catering event planners are available to guide you every step of the way! We look forward to providing an unforgettable event catering experience.
Celebrate Special Occasions at Bravo!
When you're looking for a great Italian restaurant near you to gather family and friends, the answer is Bravo! Italian Kitchen.
Celebrate special occasions, birthdays, baby showers, bridal showers, graduations, engagements, sports team wins, office luncheons, holiday parties and more! Your local Bravo! Italian location offers the perfect semi-private and private dining rooms to accommodate your next large party or private event.
Our group dining menu packages for lunch, brunch, and dinner offer a variety of options ranging from buffet to plated. We also offer packages for social hours and cocktail receptions. If you're hosting a group of 20 guests or more, visit our GROUP DINING page to learn more and let our expert event planners take care of all the details. For small groups less than 20 guests, easily make your RESERVATION online. We can't wait to celebrate with you!
The best Italian food to go
When you want to enjoy your favorite Italian food at home or office, the full Bravo! Italian Kitchen menu is available to go. You have the option to pick up curbside at the restaurant or get food delivery. Simply order online and everyone will say "Bravo!"